Let's Get Automated.
August 23-26, 2023 | Mumbai, India
Join our engineering experts in Hall 2, Booth O22 during Automate Expo 2023! We'll be ready to chat about our favorite topic - miniature motors - and how our portfolio delivers the high torque density, increased maximum speed, and high efficiency required of demanding automation and robotics applications.
Not able to make it to the show? Don't worry - we're always available digitally! Simply fill out the form to the right and we'll be in touch to discuss your application.
Why Portescap?
Portescap's brush DC, brushless DC, and stepper motors are designed to thrive in the most challenging of environments, easily providing the high speeds, efficiency, and precision that are critical to industrial applications. Our motor accessories, customization options, and availability of Engineer-to-Engineer collaboration ensure that your motor will meet – and exceed – all necessary requirements.
22ECT48 Ultra EC Brushless DC Motor
The 22ECT48 BLDC motor is designed and optimized
to sustain the demanding repetitive working cycles of industrial power tools and automation applications. This motor is ideal for those searching for a reliable motion solution that delivers high continuous peak torque.
R22HT High Torque Gearhead
The R22HT high torque gearhead delivers up to 3.7
Nm of continuous torque and an efficiency ranging from 62% to 82%. Due to its high-power density and high efficiency, this gearhead is the ideal motion solution for battery-operated power tools, offering improved comfort for hand-held equipment.
45ECF Brushless Slotted Flat Motor
With torque up to 91 mNm and a footprint of 22.5mm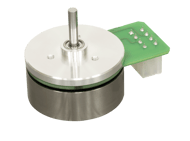 length, the innovative 45ECF brushless slotted flat motor is an ideal solution for applications seeking a high-power density solution in a compact package. This motor also includes hall sensors that allow for easier speed and torque control.
We have a wealth of resources highlighting our miniature motor capabilities for the industrial market. Start browsing below:
Portescap has a long, rich history in providing powerful miniature motor solutions for customers around the globe - but that's only the tip of the iceberg! With our global footprint, focus on customization and Engineer-to-Engineer collaboration, customer-centric products and processes, and incredibly talented and innovative teams who make it all happen, we stand ready to deliver a mini motor solution that meets - and exceeds - all expectations.